Rates
*Weekday rates: Monday – Friday
*Weekend rates: Saturday – Sunday
18 Hole Rates
| | |
| --- | --- |
| Green Fees Weekdays | Rate |
| Before 1:00 p.m. | $25.00 w/cart |
| After 1:00 p.m. | $25.00 w/cart |
| Twilight 4:00 p.m. | $25.00 w/cart |
| Walking | $15.00 |
| | |
| --- | --- |
| Green Fees Weekends | Rate |
| Before 1:00 p.m. | $25.00 w/cart |
| After 1:00 p.m. | $25.00 w/cart |
| Twilight 4:00 p.m. | $25.00 w/cart |
| Walking | $15.00 |
9 Hole Rates
| | |
| --- | --- |
| Green Fees Weekdays | Rate |
| Before 1:00 p.m. | $15.00 w/cart |
| After 1:00 p.m. | $15.00 w/cart |
| Walking | $10.00 |
| | |
| --- | --- |
| Green Fees Weekends | Rate |
| Before 1:00 p.m. | $15.00 w/cart |
| After 1:00 p.m. | $15.00 w/cart |
| Walking | $10.00 |
From the ProShop
Just a reminder that we are getting excited about spring being just around the corner, and it's always a great feeling when the days start getting longer and the smell of cutting grass is in the air! The first deadline for memberships are due this Friday, February 9th in order to receive the $50 discount. All new members will receive the $50 discount regardless of the payment time frame. Looking forward to another great season in 2018, and thanks again to everyone for your continued support! Dodge Point has also introduced new Membership options for Seniors over the age of 62 and Individuals that live outside a 25 mile radius from the club. We are truly appreciative of the summer we have had, and for being the 70th season of Dodge Point Country Club it is easy to see that the club is in great hands because of our continued support!! Thanks again and we look forward to seeing everyone throughout the winter!!
Clubhouse hours will be Closed Saturday-Thursday and 4:00pm-Close on Friday Nights. We will be catering to private parties on Saturday Nights.
Tee Times
We accept reservations up to 7 days in advance. All tee times require a three hour notice of a cancellation or one hour for reduction in players. Member and Non-Member Group Outings of 8 or more players can reserve tee times over 30 days in advance.
To reserve a tee time online, click here!
Scorecard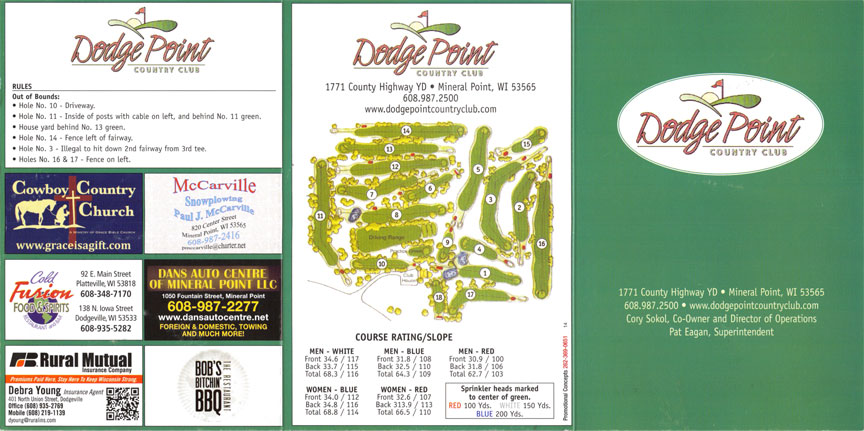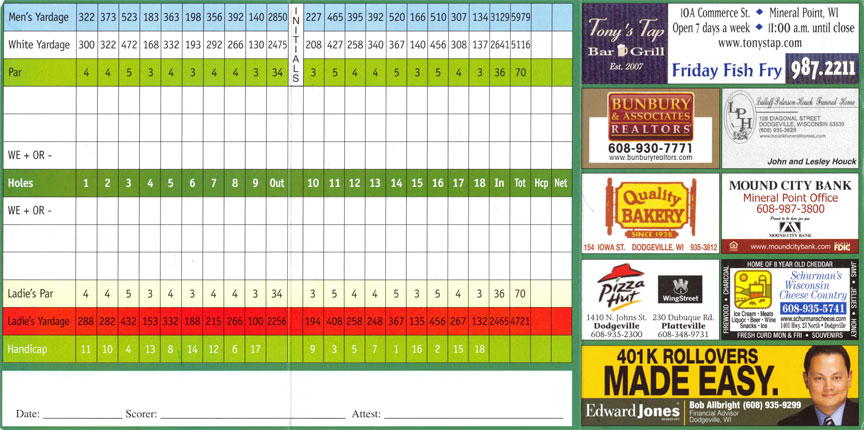 Policies
Dress Code

Soft-Spike facility. Golfers must wear appropriate attire (shirts and shoes are required).

Pace of Play (4 hours or less for 18 holes)

It is the responsibility of each group to reasonably keep pace with the group ahead. If your group falls behind the course pace of play expectation, you may be requested to pick up your ball and move forward into position. The ranger on duty has the authority to keep play moving at the proper pace for all players enjoyment.

Rain Check Policy

DPCC has a rain check policy. Rain alone does not cause the course to close; however, during inclement weather conditions, cancellations will be accepted until the time of play. Rain checks will be issued for the holes not completed due to inclement weather. No money is refunded. If you start your round while it's raining, no rain checks will be issued.

If you see lightning, you are advised to evacuate the course. We do sound a horn for lighting in the area. PLAY AT YOUR OWN RISK.
DPCC is not responsible for loss, theft, or damage of golfer's personal property.
Golf Leagues
2018 will be an exciting year for all Men's and Women's leagues at Dodge Point Country Club.
Men's league will be hosted on Monday and Tuesday night starting with a 5 o'clock Shotgun start. These teams will consist of 4 gentlemen per team and scores will be decided off the WSGA handicap system.
Wednesday will also be played as a Men's night and will consist of two separate leagues. Fish's league will be every guy for himself and teams will be picked after play has commenced. This league will use the stableford system in accordance to your WSGA handicap. Then there will also be a league starting at 6pm shotgun which will be ran in the same manner as Monday and Tuesday night league in accordance to your WSGA Handicap.
Thursday Night league will consist of women's night and will be played in two person teams. They will also use the WSGA handicap system and will calculate points accordingly.
Golf Memberships & Dues
There are also 10 pass packs available which include ten 18 hole rounds with cart. You are allowed to split the 18 holes up into 9 hole rounds and the cost of the passes are $320 for Monday-Sunday, and $280 for Monday-Friday.
Membership Level

Before 2/9/18

After 2/9/18

Family Membership
(Includes age thru High School)
$1025
$1125
Couples

Senior Couples (Age 62 and Over)

25 Mile Radius Couples

$825

$775

$725

$875

$825

$775

Single

Senior Singe (Age 62 and Over)

25 Mile Radius Single

$625

$575

$525

$675

$625

$575

College
$325
$350
High School (Ages 14-18)

Junior (Ages 13 & Under)

$200

$125